DaVinci Robotic / Minimally Invasive Surgery (Cancer and Non-Cancer)
What is DaVinci Robotic Surgery?
The DaVinci Robotic Surgery system is a robot-assisted surgical system that allows surgeons to perform minimally invasive complex surgeries with extreme accuracy and upgraded precision. This is a massive improvement over our traditional form of laparoscopy. Traditional laparoscopy consists of the surgeon using standard hand-held instruments. Also, during conventional surgery, the doctor must remove his eyes from the patient to look at a monitor that shows digital imaging through a 2D image.
How does the DaVinci Robotic System Help Surgeons?
The key areas in which the DaVinci Robotic System aids a surgeon are in dexterity, precision and accuracy, visual aid, and much more. Compared to your traditional surgery, a doctor will now be comfortably seated within his chair at the console. Visual aids are present through the use of multiple monitors and consoles. Robotic arms are used that mimic the surgeon's hand movements with extreme pinpoint precision. In order for his visuals to change or for the robotic hands to be moved, the doctor uses his hands to reposition. The robotic arms will follow the surgeon's hand movements and so will the camera.
Key Factors for Increased Success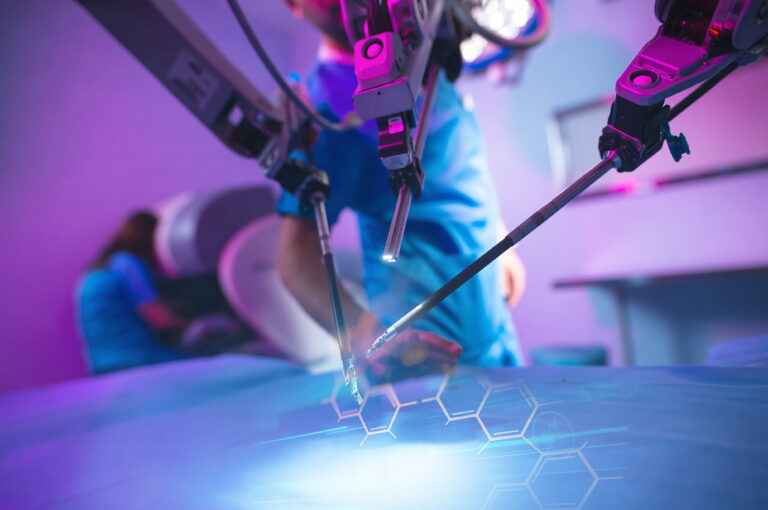 There are multiple key factors that make this robot-assisted procedure more valuable for surgeons than your traditional laparoscopy:
Heightened Visual Accuracy – Traditional monitors only allow a surgeon a simply 2D image of the surgery that is not usually directly in the vision. Also, the camera must be adjusted throughout the surgery. With the DaVinci system, the camera follows the robotic arms and shows updated medical imaging in real-time throughout the procedure in 3D.
Dexterity and Precision – DaVinci's robotic arms allow much more dexterous movements compared to the standard movement of a wrist. Their range of motion is not restricted by joints, so they can rotate into positions much more difficult for a doctor.
Proof and Achievements – Became the first robotic-assisted surgical platform available on a commercial level within the United States in 2000. Hundreds of thousands of patients have experienced the DaVinci System.
Please call us to schedule an appointment at (954) 714-8200