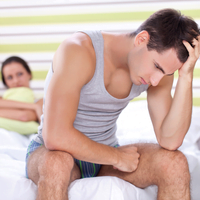 Erectile dysfunction commonly referred to as ED, is the inability to achieve or maintain an erection suitable for sexual intercourse. It is estimated that ED affects up to 30 million men in the United States, including over half of men between the age of 40 and 70 years old.
Symptoms
Symptoms may include persistent:
Trouble getting an erection

Trouble keeping an erection

Reduced sexual desire
Causes
A successful erection is dependent on the following conditions:
Properly functioning nerves in the penis

Adequate blood circulation into the penis

The veins must be able to "trap and keep" the blood inside the penis

A stimulus from the brain
If something is interfering with any or all of these conditions, a full erection will not be achieved.
Causes of ED can be either physical or psychological in nature
Physical Causes
Heart disease

Diseases that affect blood flow, such as atherosclerosis or venous leakage

High cholesterol

High blood pressure

Diabetes

Obesity

Parkinson's disease

Multiple sclerosis

Low testosterone

Peyronie's disease (scar tissue in the penis)

Certain medicines

Tobacco use

Alcoholism and other forms of substance abuse

Prostate surgery or radiation treatment for prostate cancer

Surgeries or injuries that affect the pelvic area or spinal cord
Psychological causes
Depression, anxiety, or other mental health conditions

Stress

Relationship problems
When to see a doctor for ED
Occasional failure to achieve an erection can occur for a variety of reasons. Failure to achieve an erection less than 20% of the time is not unusual and typically does not warrant treatment. However, a failure to achieve an erection more than 50% of the time is indicative of a problem than may cause stress, relationship problems, and self-confidence issues and requires medical attention
Diagnosis
In addition to reviewing your medical history and performing a thorough physical exam, the doctor will ask you a multitude of questions about your personal and sexual history.
The following tests may also be administered if deemed necessary:
Blood tests

 to check for signs of heart disease, diabetes, low testosterone levels, and other health conditions.

Urinalysis 

to look for signs of diabetes and other underlying health conditions.

Ultrasound 

to check blood flow to the penis.

Overnight erection test

 to determine whether the cause of the ED is most likely psychological.
Treatment
The first thing your doctor will do is to make sure you're getting the right treatment for any health conditions that could be causing or worsening your erectile dysfunction.
Depending on the cause and severity of your erectile dysfunction and any underlying health conditions, you might have various treatment options. Your doctor can explain the risks and benefits of each treatment and will consider your preferences. Your partner's preferences also might play a role in your treatment choices.
Oral medications
Oral medications are a successful erectile dysfunction treatment for many men. They include:
Sildenafil (Viagra)

Tadalafil (Adcirca, Cialis)

Vardenafil (Levitra, Staxyn)

Avanafil (Stendra)
All four medications enhance the effects of nitric oxide — a natural chemical your body produces that relaxes muscles in the penis. This increases blood flow and allows you to get an erection in response to sexual stimulation.
Taking one of these tablets will not automatically produce an erection. Sexual stimulation is needed first to cause the release of nitric oxide from your penile nerves. These medications amplify that signal, allowing normal penile function in some people. Oral erectile dysfunction medications are not aphrodisiacs, will not cause excitement, and are not needed in people who get normal erections.
Your doctor will consider your particular situation to determine which medication might work best. These medications might not treat your erectile dysfunction immediately. You might need to work with your doctor to find the right medication and dosage for you.
Penis pumps, Surgery, and Implants
If medications aren't effective or appropriate in your case, your doctor might recommend a different treatment. Other treatments include:
Penis pumps.

 A penis pump (vacuum erection device) is a hollow tube with a hand-powered or battery-powered pump. The tube is placed over your penis, and then the pump is used to suck out the air inside the tube. This creates a vacuum that pulls blood into your penis.

Once you get an erection, you slip a tension ring around the base of your penis to hold in the blood and keep it firm. You then remove the vacuum device.

The erection typically lasts long enough for a couple to have sex. You remove the tension ring after intercourse. Bruising of the penis is a possible side effect, and ejaculation will be restricted by the band. Your penis might feel cold to the touch.

If a penis pump is a good treatment choice for you, your doctor might recommend or prescribe a specific model. That way, you can be sure it suits your needs and that it's made by a reputable manufacturer.

Penile implants.

 This treatment involves surgically placing devices into both sides of the penis. These implants consist of either inflatable or malleable (bendable) rods. Inflatable devices allow you to control when and how long you have an erection. The malleable rods keep your penis firm but bendable.

Penile implants are usually not recommended until other methods have been tried first. Implants have a high degree of satisfaction among those who have tried and failed more-conservative therapies. As with any surgery, there's a risk of complications, such as infection. Penile implant surgery is not recommended if you currently have a urinary tract infection.
Exercise
Recent studies have found that exercise, especially moderate to vigorous aerobic activity, can improve erectile dysfunction. Even less strenuous, regular exercise might reduce the risk of erectile dysfunction. Increasing your level of activity might also further reduce your risk. Discuss an exercise plan with your doctor.
Psychological counseling
If your erectile dysfunction is caused by stress, anxiety or depression — or the condition is creating stress and relationship tension — your doctor might suggest that you, or you and your partner, visit a psychologist or counselor.
Please call us to schedule an appointment at (954) 714-8200