Are you looking for a vasectomy doctor in Fort Lauderdale, Florida?
Well, then you have certainly come to the right website! At Z Urology our doctors are some of the most qualified in the business and our medical staff includes ivy league and fellowship-trained medical superstars. Who are experts in male vasectomy and who also perform tons of the procedures every single year. At Z Urology we take a modern approach to both male and female urological care. From the first time you step into our office, you will see the difference. Our waiting room is comfortable spacious and offers free wifi for your brief wait. Our medical staff is large and swarming and right there to help you at every turn. Our doctors are super smart and happy to answer all your medical questions about your potential vasectomy. In order, to help you decide if it's the right birth control choice for you and your family. After your vasectomy consultation with one of our doctors, our scheduling staff will be happy to get your procedure on the surgical calendar for the best date that suits your life and commitments. At Z Urology we take pride in offering our patients a wide range of surgical dates and times for their convenience.
Wikipedia defines vasectomy as the following: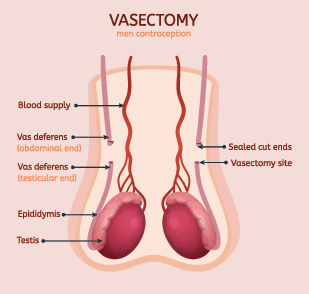 "Vasectomy is a surgical procedure for male sterilization or permanent contraception. During the procedure, the male vasa deferentia are cut and tied or sealed so as to prevent sperm from entering into the urethra and thereby prevent fertilization of a female through sexual intercourse. Vasectomies are usually performed in a physician's office, medical clinic, or, when performed on an animal, in a veterinary clinic—hospitalization is not normally required as the procedure is not complicated, the incisions are small, and the necessary equipment routine.

There are several methods by which a surgeon might complete a vasectomy procedure, all of which occlude (i.e., "seal") at least one side of each vas deferens. To help reduce anxiety and increase patient comfort, men who have an aversion to needles may consider a "no-needle" application of anesthesia while the "no-scalpel" or "open-ended" techniques help to accelerate recovery times and increase the chance of healthy recovery.

Due to the simplicity of the surgery, a vasectomy usually takes less than thirty minutes to complete. After a short recovery at the doctor's office (usually less than an hour), the patient is sent home to rest. Because the procedure is minimally invasive, many vasectomy patients find that they can resume their typical sexual behavior within a week, and do so with little or no discomfort."
If you are ready to consult about your vasectomy in Fort Lauderdale, Florida and put your reproductive mind at ease. Then call our office today and a member of the Z Urology medical staff will be happy to get you all set up. A vasectomy can be a big decision, even though it is reversible. So you want to make sure you have the best possible urological team by your side for the decision making process and the procedure itself. For most men who get a vasectomy the relief, it provides them is worth its weight in gold, and we have had tons of wonderful feedback from our clients over the years after they get them. To book your consultation for a vasectomy or any other urological issue you may be having. Please pick the location closest to you for your convince and then give us a call. Our medical staff is standing by and ready to help!

Main Phone: (954) 714-8200
Main Email: info@zurology.com
Coral Springs Location:
5850 Coral Ridge Drive, Suite 106
Coral Springs, FL 33076
Phone: (954) 714-8200
Fax: 954-840-2626
Fort Lauderdale Location:
2951 NW 49th Avenue Suite 308
Fort Lauderdale, Florida 33313
Phone: (954) 714-8200
Fax 954-714-8222
Pompano Beach Location:
990 N Federal Hwy
Pompano Beach, FL 33062
Phone: (954) 714-8200
Fax: 954-840-2626
Office Hours:
Monday – Friday: 9:00 am to 5:00 pm
Se Habla Español
Nou Pale Kreyol