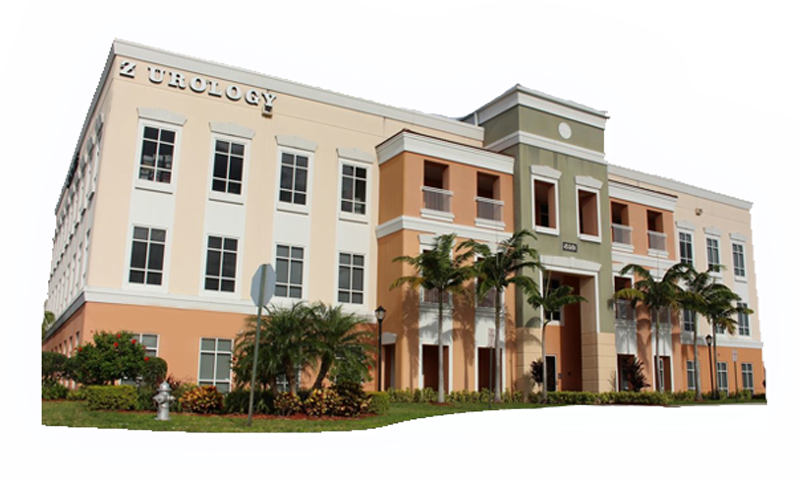 One of the most common reasons that men go to Dr. Z Urology's office, is because the best urologist in South Florida can help with erectile dysfunction. Before one gets the help they need. They should understand exactly what ED is.
What is Erectile Dysfunction?
Erectile Dysfunction is defined as the inability to achieve and maintain an erection sufficient for satisfactory sexual activity. It is common and in most cases, can be treated. Erectile dysfunction affects men of all ages. However, more than 85% of men with ED don't seek treatment. It is not a disease, but a symptom of another problem, which might be physical, psychological, or a mixture of both.
How Common Is It?
Erectile Dysfunction is very common. An Australian survey showed that at least one in five men over the age of 40 has an erection problem, and about one in ten men is unable to even have an erection.
How Do Erections Work?
During physical arousal, nerves release chemicals that increase blood flow to the penis. Blood flows into two erection chambers in the penis, made of wet muscle tissue. The corpus cavernosum chambers are not hollow. During an erection, the spongy tissues relax and trap blood. The blood capillaries in the penis relax and open up, leaving the blood to fill them. Blood trapped under high pressure generates an erection. Ejaculation is a reflex action managed by the central nervous system.
Why Does Erectile Dysfunction Happen?
A decrease in blood flow to the penis from narrowing blood vessels is often the cause of ED. When erectile dysfunction happens, there might be several contributing factors, and it is usually a combination of physical and psychological causes. Sometimes, there is no apparent reason at all for erectile dysfunction.
Physical Causes include:
• Vasculogenic Situations – Disease of the heart or cardiovascular disease (CVD), high blood pressure, raised cholesterol, and diabetes.
• Neurogenic Situations – Various sclerosis, Parkinson's disease, stroke, diabetes, and spinal injury.
• Hormonal Conditions – Overactive thyroid gland, an underactive thyroid gland, hypogonadism (low testosterone level), Cushing's syndrome (high cortisol level), a head or brain injury recently in the past and subarachnoid hemorrhage or radiation to the head (these may cause hormonal changes, particularly a low testosterone).
• Anatomical conditions – Peyronie's disease.
• Surgery and radiation therapy for bladder, prostate or rectal cancer.
• Injury to the penis.
• A side effect of directed medications.
• Recreational medicine use.
• Excessive alcohol consumption.
Erectile Dysfunction is also more likely to occur in people who smoke, are overweight, or are not active enough.
If atherosclerosis is the cause of your ED, this narrowing is likely to impress other blood vessels in the body as well, including the arteries that supply blood to the heart. That means ED can an early warning sign of future heart problems, appearing some 3-5 years before a heart complaint. You may, therefore, be able to prevent a next heart problem from happening if you see your doctor for treatment soon after your Erectile Dysfunction starts.
Psychological Causes:
• Your erection is great, except for your partner.
• You are suffering stress and anxiety from work or home (family or money).
• There are marital rows and dissatisfaction (which may also cause premature ejaculation problems).
• You are depressed.
• Failure once is followed by fear of subsequent failure.
• Your partner has physical issues.
• You are bored sexually.
• You are concerned about your sexual orientation.
• You have suffered previous sexual abuse.
What are the Symptoms of Erectile Dysfunction?
The main symptom of (ED) is the inability to get and maintain an erection for satisfying intercourse. Or it can mean you cannot get an erection consistently, or can only get brief erections. There are three Symptoms of Erectile Dysfunction.
• Inability to get an erection
• Failure to keeping an erection
• Reduced Sexual Desire
If Erectile Dysfunction is affecting a man's well-being or his relationships, it should be treated. Treatment aims to fix or enlarge erectile function, help circulatory health, and help the quality of a man's life.
How is Erectile Dysfunction Diagnosed?
• A review of health and sexual history may reveal conditions that lead to erectile dysfunction. It can also help your healthcare provider to tell the difference between problems with erection, ejaculation, orgasm, or sexual drive.
• A Physical examination to look for the main problem.
• A problem in the nervous system. This may be involved if your penis does not respond as expected to specific touching.
• Secondary sex features such as hair pattern can point to hormone problems, which involve the endocrine system.
• Unusual features of the penis itself could suggest the cause of Erectile Dysfunction (ED).
• Lab tests including blood counts, urine tests, cholesterol tests, and measurements of creatinine and liver enzymes. When low sexual desire is a feature, checking testosterone in the blood can show problems with the endocrine system.
• Penile ultrasound is used to scale the blood flow in the penis.
• A psychosocial exam that is done to help find psychological causes that may be affecting your performance. They may also interview your sexual partner.
• Other Tests: Inquiries are often used by health specialists to rate your ability to initiate and keep erections, gauge your satisfaction with sex, and help identify any problems with orgasm.
What Treatments are There?
Usually, there won't be one special treatment that helps. For some men, there is a reversible underlying cause that can be treated. For others, the erectile dysfunction problem can't be cured, but it can be managed.
If you are suffering from erectile dysfunction, pick up the phone and call Z Urology, with offices in South Florida. Call today!
We provide state-of-the-art urologic care in the South Florida area with a focus on both male and female urology. Our practice specializes in all urologic procedures, specifically, minimally invasive methods. Our three locations to choose from are located in Fort Lauderdale, Coral Springs and Pompano Beach.
We at "Z" specialize in bladder issues, erectile dysfunction (ED), prostate issues, urinary incontinence, sexual dysfunction, stone disease, BPH, male infertility, pyeloplasty, Peyronie's disease, and ureteral reimplantation.