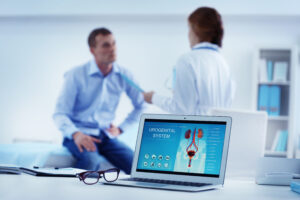 In the sprawling expanse of South Florida, where the sun kisses the turquoise waters and palm trees sway with the rhythm of the sea, a beacon of hope for many emerges; Z Urology. Established in 2005, this distinguished urological center was strategically designed with a singular mission in mind: to address the multifaceted urological diagnostic needs of the residents of South Florida. A legacy of expertise and compassion; The success of Z Urology isn't simply about the cutting-edge facilities or the advanced medical procedures they offer. It's about the heart behind every treatment, the dedication that resonates with every physician's touch, and the understanding and empathy that permeates every consultation room. Z Urology isn't just a multi-physician practice; it's a sanctuary for many. Years have been devoted to mastering the art of urology, always with an unwavering commitment to assimilating the latest technological advances to ensure the zenith of patient care. Every individual's health journey is unique, and the team at Z Urology knows this all too well. They recognize every patient's vulnerability, apprehension, and silent hope. This profound understanding forms the core of their mission – to diagnose, treat, and revitalize the lives of their patients, whether male or female, with unmatched success and care.
Diverse Services, One Mission: Excellence in Patient Care
From Urinary Reconstruction to treating Kidney/Bladder Stones, managing Benign Prostatic Hyperplasia, undertaking Davinci Robotic Surgery, to performing Vasectomies, Z Urology stands as a testament to what is achievable when expertise meets dedication. The mantra is clear: surpass patient expectations at every juncture. In the ever-evolving landscape of medicine, Z Urology remains steadfast in its commitment to progress. Significant investments have been made to harness the latest technological advancements in urological treatment, ensuring that every patient, irrespective of the complexity of their condition, receives the most effective treatment.
A Glimpse into Z Urology's Array of Services
URINARY RECONSTRUCTION
Pyeloplasty

Ureteral Reimplantation

Bladder Mesh Revision

TURP

Optilume

Botox For Over Active Bladder
BENIGN PROSTATIC HYPERPLASIA
Rezum

UroLift

Sacral Neuromodulation

Aquablation
More Services To Accommodate Their Patients 
URINARY RECONSTRUCTION
Ureteral Reimplantation

Bladder and Urethral Slings

Bladder Mesh Revision

Bladder Fistula 

Pyeloplasty

TURP

Optilume

Botox For Over Active Bladder
BENIGN PROSTATIC HYPERPLASIA
Rezum

UroLift

Sacral Neuromodulation

iTind

Aquablation
KIDNEY/BLADDER STONES
Laser Lithotripsy

Lithotripsy

Ureteroscopy with Laser

Extracorporeal Shock Wave

Kidney/ Bladder Stones

Percutaneous Nephrolithotomy

Kidney Stones

Bladder Stones
DAVINCI ROBOTIC SURGERY
Urinary Reconstruction

Radical Prostatectomy (RARP, RALP)

Simple Prostatectomy

Radical and Partial Nephrectomy
URINARY DYSFUNCTION
Urinary Tract Infections/ Prostatitis

Urinary Incontinence

Interstitial Cystitis

Bladder and Urethral Slings
VASECTOMY
Vasectomy

Vasectomy Reversal
MEN'S And WOMEN'S SEXUAL HEALTH
Male Infertility

Erectile Dysfunction

Penile Prosthesis

Hydrocele

Peyronie's Disease

Sexual Dysfunction

Circumcision

Laser Enucleation of the Prostate

Inflatable Penile Implant

Varicocelectomy
CANCER
Prostate Cancer

Testicular Cancer

Bladder Cancer
NEUROGENIC BLADDER
PRO-NOX
KIDNEY HEALTH
Understanding the Inflatable Penile Implant and Its Process
The journey towards achieving a fulfilled sexual life can be riddled with challenges, especially for men experiencing erectile dysfunction (ED). It's an issue that can significantly impact one's self-esteem and overall quality of life. Fortunately, advancements in medical science have paved the way for effective solutions, and one of the most notable is the inflatable penile implant. At Z Urology, the team recognizes the transformative potential of this procedure, ensuring that patients receive the utmost care and expertise throughout the process. 
Penile Implants: When and Why to Consider Them
Erectile dysfunction, a challenge that many men face, can often be managed effectively through medications or the use of a penis pump, also known as a vacuum constriction device. However, for those who find these treatments ineffective or aren't suitable candidates for them, penile implants present an alternative solution. If other methods don't yield results in achieving an erection adequate for sexual activity, penile implants may be a consideration. Additionally, penile implants serve as a remedy for severe instances of Peyronie's disease, a condition characterized by internal penile scarring that results in curved, often painful erections.
However, it's vital to note that penile implants are not a one-size-fits-all solution. They might not be suitable for everyone. For instance, if you're grappling with active infections, whether pulmonary or urinary tract-based, your healthcare provider might advise against such procedures. The same caution applies to those with uncontrolled diabetes or significant heart conditions. Always ensure that you consult with a healthcare professional to assess the best course of action tailored to your unique medical and personal circumstances.
The Process: A Step-by-Step Overview
Consultation: As with any medical procedure, it starts with a comprehensive consultation. At Z Urology, the team will discuss the patient's medical history, current challenges, and the potential benefits and risks of the procedure. This is an opportune moment for patients to ask questions and express any concerns.
Preoperative Preparations: Prior to surgery, patients may undergo various tests to ensure they are suitable candidates for the implant. They may also receive guidelines regarding medication adjustments, dietary restrictions, and other necessary preparations.
Surgery: The actual insertion of the inflatable penile implant is a delicate procedure performed under anesthesia. The surgeon will make a small incision, either above the penis, below it, or in the scrotum, depending on the specific case and the chosen implant type. After inserting and positioning the device components, the incision will be sutured closed.
Recovery: Recovery timelines can vary, but most men can resume non-strenuous activities within a few days post-operation. Full recovery, including the resumption of sexual activities, typically takes about 4-6 weeks. The Z Urology team will provide a detailed post-operative care guide, including potential signs of complications to monitor.
Follow-Up: Regular follow-up appointments are crucial to ensure the implant is functioning correctly and that there are no complications. The patient will also receive guidance on using and caring for the implant.
The Transformation
While the physical benefits of the inflatable penile implant are evident—restored sexual function and a boost in self-confidence—the emotional and psychological impact is profound. Many men report an enhanced sense of masculinity, a revitalized relationship with their partners, and a renewed zest for life.
The inflatable penile implant is more than just a medical device; it's a doorway to renewed intimacy and self-assurance. At Z Urology, every step, from consultation to post-operative care, is handled with sensitivity, discretion, and unmatched expertise, ensuring that patients embark on this transformative journey with confidence and support.
How Z Urology Stands Out in South Florida
The balmy breeze of South Florida is more than just a testament to its tropical beauty. It's an emblem of rejuvenation, fresh starts, and healing. And nestled within this paradise is a haven that exemplifies these very virtues: Z Urology. Here's a closer look at how this renowned institution has carved a niche for itself in the urological landscape of South Florida.
A Compassionate Approach to Comprehensive Care
While the technicalities of medical procedures are essential, Z Urology understands that the journey to wellness is as much about the mind as it is about the body. Urological issues, often deemed sensitive and private, can indeed be sources of great stress. Recognizing this, Z Urology's patient-centered approach seeks to alleviate these anxieties. Each patient isn't just a case file but a unique individual with specific needs, concerns, and stories. The team ensures that patients feel treated, heard, valued, and understood by emphasizing open communication.
Pioneering Technological Excellence
In the rapidly advancing world of medical technology, staying updated isn't a luxury; it's a necessity. And Z Urology isn't one to be left behind. The institution's unwavering commitment to integrating the latest in urological technology is evident in the outcomes it produces. Whether it's the intricacies of prostate cancer treatment or the complexities of addressing kidney stones, Z Urology has consistently showcased unmatched proficiency, translating to improved patient outcomes and enhanced quality of life.
Services Tailored for Convenience and Comfort
Understanding the bustling lives of South Floridians, Z Urology continually adapts to offer services that cater to contemporary needs. One such offering is their telemedicine services. Recognizing the era of digital connectivity and the benefits of remote consultations, especially in the current global scenario, Z Urology facilitates telemedicine sessions. However, patients are advised to call in advance to schedule and verify insurance coverage, as some providers may have specific policies regarding virtual consultations.
Additionally, catering to the evolving needs of patients, Z Urology has introduced Pro-nox to its suite of services. For those unfamiliar, Pro-nox is a game-changer in pain and anxiety management during minimally invasive procedures. By making this available, Z Urology emphasizes its dedication to ensuring patient comfort, reducing anxiety, and enhancing the overall procedural experience. South Florida isn't just a location; it's a vibrant tapestry of cultures, experiences, and stories. Z Urology shines as a beacon of medical excellence, compassionate care, and innovative solutions in this diverse milieu. By intertwining the warmth of personalized care with the precision of cutting-edge technology, Z Urology isn't just setting standards; it's redefining them.
Z Urology: South Florida's Premier Destination for Urological Care
In the vast landscape of medical care in South Florida, Z Urology shines as a beacon of excellence and dedication. Founded in 2005, this institution has consistently demonstrated a commitment to meeting and surpassing its patients' expectations. Z Urology remains unmatched in its domain with a rich history of expertise, a patient-first approach, and an unyielding drive to stay updated with technological advancements. Their holistic offerings, from treating common urological conditions to the more complex, ensure that every patient is given the best shot at improved health and quality of life. The practice's genuine understanding of the physical and emotional toll urological issues can inflict is evident in their compassionate, tailored care. Furthermore, with innovative solutions like telemedicine services and state-of-the-art treatments such as the Inflatable Penile Implant, Z Urology is truly at the cutting edge of urological care.
Your health is an invaluable treasure. With Z Urology, you're not just choosing a medical facility; you're opting for a legacy of unparalleled care and compassion. Whether it's a simple consultation or a complex surgical procedure, you're always in expert hands with Z Urology. In the world of urological care in South Florida, Z Urology isn't just a name; it's a promise of excellence.
Urology Redefined, Experience Life Like You Never Thought Possible Again; Z Urology